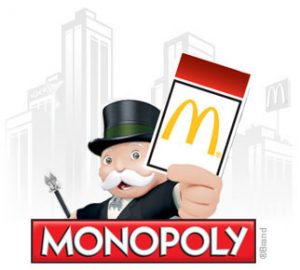 This page contains info on the Year of Magazines prize for Macca's Monopoly New Zealand! Or click here for our feature post with the latest game info, rare pieces and prize information!
Terms and Conditions
1. Each Year of Magazines prize comprises of (1) x Magshop voucher code valued up to $19.99. This Magshop voucher code can be used to claim an annual digital subscription to a participating magazine title.
2. The Promotional Partner for the Year of Magazines prize is Are Media Pty Limited (ABN 18 053 273 546).
3. Selected magazine titles are; The Australian Women's Weekly NZ, Your Home and Garden NZ, Woman's Day NZ, The Listner, The NZ Women's Weekly.
4. To claim this prize, a winner must visit magshop.co.nz/maccas23 and follow the prompts to redeem a one digital annual subscription to a participating magazine.
5. The Magshop voucher code must be used to claim an annual digital subscription at the nominated website by 31 March 2024.
6. The first digital issue entitlement of the selected title will commence with the next issue on sale when the App is downloaded.
7. Free gifts and tip-ons that may be available with retail copies are not provided with subscriber copies.
8. Existing digital subscribers to any of these digital publications will duplicate their digital subscription. We advise choosing a different title to avoid duplications.
9. Are Media will send an email with notification prior to the customer's free digital subscription period ending.
10. In the event of a magazine ceasing publication your digital subscription will automatically be transferred to a title of similar interest.
11. Digital subscriptions available for iPads running iOS10 and above and Android tablets with screens 7 inches and up. Not available for Windows tablet devices.
12. A winner must take the prize as offered. The prize cannot be used in conjunction with any other special offer.
13. The Year of Magazines prize is non-refundable, cannot be exchanged for cash and is valid for single use only.
14. The prize does not include any ancillary costs associated with redeeming the prize, which are the responsibility of the winner. Access to the internet is required. Costs associated with accessing the promotional website and/or viewing the digital subscription remain a winner's responsibility and may vary depending on the Internet service or telecommunications provider used.
15. By redeeming this prize, winners agree to comply with Magshop's Terms and Conditions found at https://www.magshop.com.au/terms-and-conditions.