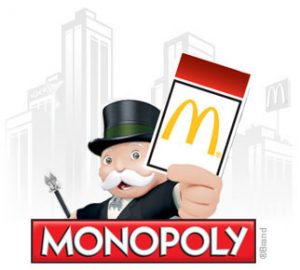 This page contains info on the Free Sports Session prize for Macca's Monopoly New Zealand! Or click here for our feature post with the latest game info, rare pieces and prize information!
Terms and Conditions
1. The Free Sports Session prize comprises of one (1) x free session evoucher valued up to $33.00 (Free Sports Session evoucher).
2. The Promotional Partner for the Free Sports Session prize is J&C Advertising (ABN 29 145 608 368).
3. Each Free Sports Session prize entitles the winner to one (1) free session (or equivalent), adult or child (as specified in the terms & conditions of individual venues listed on the promotional website), at a participating venue listed on the promotional website www.maccasplayprizes.com.au and is subject to the terms stated here.
4. To claim a Free Sports Session evoucher, winners must enter their Unique Prize Code and any required Personal Information on the promotional website and select a participating venue/provider to be issued with a Free Sports Session evoucher. This evoucher is sent to the winner's nominated email address within twenty-four (24) hours.
5. The last date to claim a Free Sports Session evoucher via the promotional website is 23.59 on 31 October 2023.
6. To use the Free Sports Session evoucher at a venue follow the instructions provided. Some evouchers may be presented via your smartphone. Other venues require the evoucher to be printed and the Monopoly Free Sports Session winning ticket attached to the evoucher before surrendering at the venue, to ensure the winner is not charged for the session. Where the prize has been won by other means, for example, via a free game email from McDonald's, a copy of the email is required in lieu of the winning ticket. ID may be required for presentation with the evoucher as proof of identity. Free Sports Session evouchers can only be used at the venue printed on the evoucher. No photocopies or duplications of evouchers will be accepted. If alternative or additional instructions apply, these will be noted on the evoucher.
7. Where the Free Sports Session is redeemed online, a winner must follow the instructions and use the Free Sports Session unique code when advised. Unique codes will be valid for one use only.
8. Winners should keep a copy of their Monopoly Free Sports Session winning ticket, which may be required to validate their original win.
9. Only one (1) Free Sports Session evoucher may be used per person per venue, unless otherwise stated. Persons winning multiple Hobby Session prizes will need to use their Free Sports Session evouchers at different venues/providers each time.
10. Some venues/providers have limits on the number of Free Sports Session evouchers available as part of this prize promotion. Once these limits have been reached the venues/providers will be removed from the promotional website.
11. Individual venues reserve the right to limit the total number of Free Sports Session evouchers that may be redeemed at their venue on any given day. Please contact the venue/provider in advance of redemption to avoid disappointment.
12. Free Sports Session evouchers are valid for one (1) use at a participating venue until 31 March 2024, unless otherwise stated. Standard terms at participating venues/providers will apply. Additional conditions of use may apply at venues/providers, e.g.
restrictions of use – please check with the chosen participating venue/provider.
13. This Free Sports Session prize can be claimed online only. Access to the Internet is required. Costs associated with accessing the promotional website remain a winner's responsibility and may vary depending on the Internet service or telecommunications provider used.
14. Possession of a Free Sports Session evoucher does not provide the evoucher holder to any preferential treatment.
15. It is the responsibility of the winners to use their Free Sports Session evoucher/s by the expiry date. No extensions or replacements can be made. Free Sports Session evouchers cannot be transferred, sold, exchanged for cash or an alternative prize.
16. Use of Free Sports Session evouchers are subject to promotional availability at participating venues/providers and their use may be limited during public and school holidays and other peak periods.
17. Free Sports Session evouchers cannot be used in conjunction with any other voucher, promotion or special offer.
18. J&C, its respective agents and distributors are not liable for lost, stolen or damaged Free Sports Session evouchers.
19. J&C, its respective agents and distributors will not be responsible or liable to compensate the purchaser or other bearer or accept any liability for any personal loss or injury occurring at the participating venue.
20. J&C, its respective agents and distributors do not make any contractual promise or representation regarding the quality and/or availability of the services offered by the venues and cannot be held liable for any resulting personal loss or damage. Any statutory rights the winners may have remain unaffected.
21. Any dispute pertaining to the use of a Free Sports Session evoucher is strictly between the winner and the participating venue/provider.
22. The Free Sports Session prize is subject to promotional availability. J&C reserves the right to withdraw and then substitute a Free
Sports Session prize with another prize of equal or greater value, subject to any written directions made under applicable State or Territory legislation. For example, if a venue closes, a replacement Free Sports Session evoucher may be issued for another venue/provider.
23. Timeframes for delivery indicated in these terms and conditions may be affected by circumstances outside of the control of J&C, including, but not limited to strikes, fires, floods, earthquakes, other natural disasters, pandemics, acts of terrorism, and blackouts. J&C will not be liable for delays caused by circumstances outside of its control.
24. J&C collects personal information in order to award the Free Sports Session prize and may, for this purpose, disclose such information to third parties, including but not limited to agents, contractors, service providers, prize suppliers and, as required, to Australian regulatory authorities. Prize claims are conditional on providing this information. All prize redemption details become the property of the Promotional Partner. J&C's Privacy Policy can be found at https://maccasplayprizes.com.au/assets/pdfs/JC-PrivacyPolicy.pdf.
25. Questions or queries regarding this prize can be emailed to J&C at [email protected].