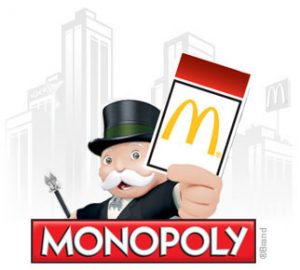 This page contains info on the Whole Home Appliances Package (Washer/Dryer/Fridge-Freezer/Dishwasher) prize for Macca's Monopoly New Zealand! Or click here for our feature post with the latest game info, rare pieces and prize information!
Terms and Conditions
1) Each prize comprises of one (1) x washing machine, one (1) x dryer, one (1) x fridge/freezer, one (1) x dishwasher valued up to $4,500 RRP.
2) The Promotional Partner for the Home Appliances Package is Andoo Pty Limited (ABN 151 833 546).
3) The prize includes delivery to the Winner's nominated address. All ancillary costs or accessories not expressly included with the Home Appliances Prize Package are the responsibility of the winner.
4) Open to New Zealand residents only.
5) The terms and conditions of sale found online at www.andoo.co.nz govern the prize package.
6) The prize is non-transferrable and not redeemable for cash.
7) Delivery to New Zealand addresses only.