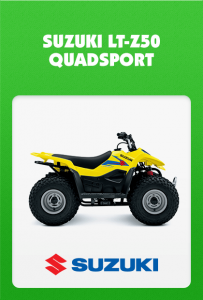 This page contains info on the Suzuki LT-Z50 Quadsport QuadBike prize for Macca's Monopoly New Zealand 2019! Or click here for our feature post with the latest game info, rare pieces and prize information!
Terms and Conditions
1. Each Suzuki prize comprises of one (1) Suzuki LT-Z50 Quadsport. The LT-Z50 is an automatic transmission with an electric starter system, available in the colour champion yellow.
2. The Promotional Partner for the Suzuki vehicle prize is Suzuki New Zealand Limited (NZBN 9429039986528).
3. Each Suzuki LT-Z50 prize is valued at $2,999 (inclusive of GST).
4. Prize includes standard fittings, a full tank of fuel, 6 months comprehensive warranty and dealer delivery charges (which may vary in different regions). Any ancillary costs associated with redeeming this prize are the responsibility of the winner. All optional extras and accessories, personal costs and any other ancillary associated with redeeming the prize are excluded and are the responsibility of the winner.
5. A winner (or their parent or legal guardian where a winner is aged 6 years and older but less than 18 years) will be contacted by the Promotional Partner to arrange for collection of the Suzuki LT-Z50 from the Promotional Partner dealership nearest to the winner's (or their parent's or legal guardian's where a winner is aged 6 years and older but less than 18 years) usual residential address. Delivery or collection is subject to availability of the LT-Z50. If an ATV is collected, the winner (or their parent or legal guardian where a winner is aged 6 years and older but less than 18 years) is responsible for all costs incurred by them to travel to and from the nearest dealership to collect the ATV.
6. The LT-Z50 may be used by those aged 6 and older. Adults must always supervise riders under the age of 16. ATVs can be hazardous to operate. For your safety, always wear a helmet, eye protection and protective clothing. Always avoid paved surfaces. Never ride on public roads. Never carry passengers or engage in stunt riding. Never exceed the vehicle load capacity of 38kg.
7. If a winner is, through any legal incapacity or otherwise, unable to register a Suzuki ATV in his or her name then such winner may assign the Suzuki prize to another person with legal capacity for the purpose of warranty registration. The Promoter and Promotional Partner take no responsibility for any such arrangements between the winner and the assignee. The winner must provide the Promoter with certified copies of all required documentation as required by the Promoter before the ATV is awarded. It is a condition of accepting the prize that the winner may be required to sign a legal release in a form to be determined, in the Promoter's sole discretion.