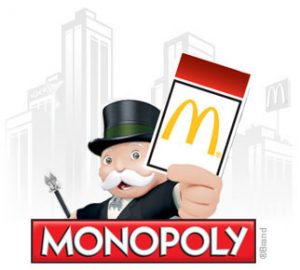 This page contains info on the Set of 4 Tyres prize for Macca's Monopoly New Zealand! Or click here for our feature post with the latest game info, rare pieces and prize information!
Terms and Conditions
1) Each Set of 4 Tyres prize comprises of one (1) x set of four (4) Continental tyres to the total maximum value of $1,500.00.
2) The Promotional Partner for the Set of 4 Tyres prize is Continental Tyres (ABN: 50 136 883 148).
3) The Set of 4 x Tyres prize includes the cost of four (4) tyres, plus fitment, balancing & alignment. Any costs above this allocation are the responsibility of the winner.
4) Any unused amount of the $1500 prize will be forfeited.
5) Eligible tyres are any 4 x Continental branded passenger, SUV or 4×4 tyres. No other brand within the Continental family of brands will be offered. Unless there is reason to do so. Reasons include but are not limited to – where no Continental brand product is available in the size or to suit the vehicle of the winner.
6) Only tyres that are in stock and available will be offered. e.g., no tyres that are sold in other markets and need to be air freighted into New Zealand will be offered or are able to be requested by the winner.
7) Continental will provide winners with the best tyre option/suitability for their vehicle. This means that on occasion, only 1-2 tyre options might be available. We have a full list of recommended fitments, so will provide the tyre which is the best recommended fitment for any vehicle make / model.
8) Tyres range in price and therefore the value of the prize is to suit the wide range of prices. Continental will provide a recommendation based on the recommended fitment lists. Cost is not a factor in ensuring the correct tyre and size recommendation is provided.
9) Winners will be directed to the closest participating retailer who will manage the tyre fitment.
10) The Set of 4 x Tyre prize must be claimed by 31 December 2024. If unclaimed by this date the prize will be forfeited.