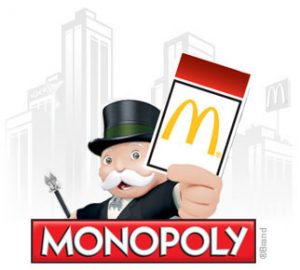 This page contains info on the McDonald's Gold VIP Card prize for Macca's Monopoly New Zealand 2021! Or click here for our feature post with the latest game info, rare pieces and prize information!
Terms and Conditions
1. Each Month of Parking prize comprises of one (1) x free ParkMate VIP Promotional Code with 1
month's access for use at Wilson Parking car parks available on ParkMate and is valued at up to $675.
2. The Promotional Partner for the month of Free Parking at Wilson Parking prize is Wilson Parking New Zealand Ltd (NZBN 9429039168856).
3. Prize will consist of ParkMate VIP Promotional Code with 1 month's free access to the network v4. Value of prize will differ dependent on the city in which it is issued. The free parking promotional code can only be redeemed via ParkMate (Download from the appstore/google play).
5. The 1-month access must commence within 60 days of the prize claim.
6. The 1 month will consist of 30 calendar days from the time that the Promotional Code is issued.
7. At the end of the 1-month period, the Promotional Code will expire and no longer be valid for use. Any parking obtained using the Promotional Code will also expire at the same time as the Promotional Code.
8. The prize is not transferable to any other person or redeemable for cash.