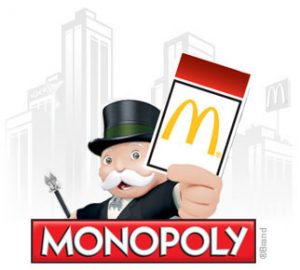 This page contains info on the 2-Night Hotel Break prize for Macca's Monopoly New Zealand! Or click here for our feature post with the latest game info, rare pieces and prize information!
Terms and Conditions
1) Each Choice Hotels Two (2) Night Beak is a nominated value of $500, rates vary between hotels.
2) The Promotional Partner for the Choice Hotels 2 Night Hotel Break Prize is Choice Hotels Asia-Pac Pty Ltd ABN 41 081 959 891 (Choice Hotels).
3) The two (2) nights' accommodation is for two (2) people in a standard room (double or twin share) and must be consumed on consecutive nights at the same Choice Hotels' property.
4) Accommodation is subject to occupancy levels, seasonality and availability.
5) The Choice Hotels unique voucher code must be entered at https://www.choicehotelsmonopoly.com.au/ for issuance of Gift vouchers.
6) Accommodation is not available during school holidays, public holidays, public holiday weekends and special events.
7) Prize winners will receive an accommodation voucher (Voucher) from Choice Hotels which will be valid for 12 months from the date of issue.
8) Vouchers are valid at any Ascend Hotel Collection, Clarion, Quality, Comfort or Econo Lodge across Australia or New Zealand.
9) Vouchers are for accommodation only. They are not redeemable for cash or transferable to another person.
10) Any booking cancellations or variations require a minimum of one week's notice.