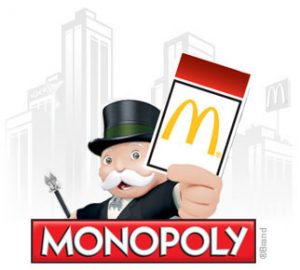 This page contains info on the $1,000 Choice Hotels Gift Voucher prize for Macca's Monopoly New Zealand 2021! Or click here for our feature post with the latest game info, rare pieces and prize information!
Terms and Conditions
1. The Promotional Partner for the $1,000 Choice Hotels Gift Voucher Prize is Choice Hotels Asia Pac Pty Ltd ABN 41 081 959 891(Choice Hotels).
2. Each $1,000 Choice Hotels Gift Voucher Prize comprises of five (5) Choice Hotels gift vouchers valued at $200.00.
3. Each winner will receive 5 x $200 vouchers. For each voucher, if the full $200 amount is not used within a transaction, the hotel will refund the guest the difference.
4. Winners must enter their details online at www.choicehotelsmonopoly.com.au and will be contacted within two business days to complete their booking.
5. Choice Hotels' gift vouchers are issued by Choice Hotels and remain the property of Choice Hotels. By redeeming or attempting to redeem a voucher, the holder accepts and agree to be bound by these terms and conditions.
6. Gift vouchers may only be used for payment of accommodation, food & beverage and other facilities and services at any of Choice Hotels' franchised Econo Lodge, Comfort, Quality, Clarion or Ascend Hotel Collection properties in Australia and New Zealand. An up-to-date list of Choice Hotels' franchised properties is available on ChoiceHotels.com.
7. Accommodation bookings are subject to availability. It would be advisable to make a booking request at least 60-days before your intended travel date, to avoid disappointment.
8. A gift voucher's total value will be calculated in local currency on the day of transaction when
presented in Australia or New Zealand.
9. Gift vouchers cannot be used to obtain cash advances, refunded, on-sold, or redeemed or exchanged for cash.
10. Choice Hotels accepts no responsibility for lost or stolen gift vouchers.
11. Gift vouchers are valid for three (3) years from the date of issue and are void if altered.