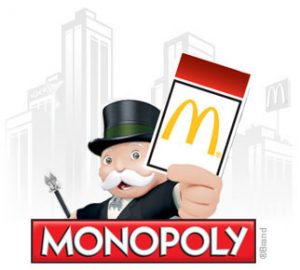 This page contains info on the $100 The Iconic Voucher prize for Macca's Monopoly New Zealand! Or click here for our feature post with the latest game info, rare pieces and prize information!
Terms and Conditions
1. Each $100 Fashion Voucher prize comprises of one (1) x THE ICONIC Gift Card valued at $100.00.
2. The Promotional Partner for the $100 THE ICONIC Voucher is Internet Services Australia 1 Pty ltd t/a THE ICONIC (ABN 50 152 631 082).
3. THE ICONIC Vouchers cannot be used in conjunction with any other offers, discounts, gift cards or promotions.
4. THE ICONIC Vouchers are redeemable online at www.theiconic.co.nz.
5. THE ICONIC Vouchers are subject to their prevailing terms and conditions of use, including expiry dates, and are not replaceable if lost, stolen or damaged.
6. See: https://www.theiconic.co.nz/terms-of-use/#vouchers9 for full gift card terms and conditions.
7. Visit www.theiconic.co.nz for full terms and conditions of sale.
8. Gift Cards will be valid until 1 May 2026.