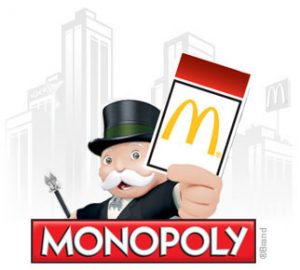 This page contains info on the $100 Caltex Fuel Gift Card prize for Macca's Monopoly New Zealand! Or click here for our feature post with the latest game info, rare pieces and prize information!
Terms and Conditions
1) Each $100 Fuel Gift Card prize comprises of (1) x $100 Caltex StarCash Gift Card ("StarCash Gift Card"). Caltex StarCash Gift Cards may be used as payment for most goods or services at any participating Caltex retailer in New Zealand.
2) The Promotional Partner for the $100 Caltex Fuel Gift Card prize is Z Energy 2015 Ltd (NZBN 9429030083042).
3) StarCash Gift Cards are only accepted at participating sites.
To find your nearest participating station visit Participating Stations: https://znz-webbackendassets-s3bucket-prod.s3.ap-southeast2.amazonaws.com/public/caltex/products-services/documents/StarCash-Particpating-Stations-ePay-Oct-2018.pdf.
4) A winner will be sent their StarCash Gift Card by courier and a suitable address needs to be supplied by the winner that is not a PO Box address.
5) Valid until 31 March 2024.
6) No change given, balance remains on the StarCash Gift Card for use against future purchases.
7) StarCash Gift Cards should be treated like cash. Lost, stolen or damaged cards will not be replaced.
8) Full StarCash Gift Card terms and conditions apply and are available at https://caltex.co.nz/products-and-services/at-thestation/starcash-gift-cards/starcash-terms-and-conditions/.