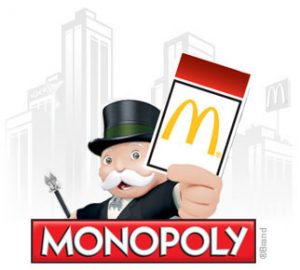 This page contains info on the 10 Night South Pacific Cruise prize for Macca's Monopoly New Zealand! Or click here for our feature post with the latest game info, rare pieces and prize information!
Terms and Conditions
Each Cruise Prize includes:
(a) accommodation in an Oceanview Twin, Triple or Quad room for up to four (4) people;
(b) selected onboard main meals (with the exception of those restaurants which have an additional cover charge) for up to four (4) people; and
(c) selected onboard activities, evening entertainment, and access to nightclubs (with the exception of those activities and facilities which have an additional cover charge) for up to four (4) people.
2. Cruise Prizes do not include flights and/or transfers to/from the winner's home to the departure port for the selected cruise. The winner must depart from Auckland, New Zealand. Any costs associated with transport to/from the departure port will be the responsibility of the winner and will not be borne by P&O Cruises Australia. Shore excursions or other onboard activities, spending money, additional meals, taxes, insurance, passports, visas, vaccinations, transfers, items of a personal nature, in-room charges and all other ancillary costs are not included.
3. Prize must be booked by 28Th April 2024 (28/04/2024) and must be taken by 31st August 2024 (31/08/2024). The prize excludes cruises departing between 15th December 2023 – 28th January 2024 (15/12/23 – 28/01/2024).
4. Prize winners will not be eligible to claim current retail promotional offers in market at the time of booking their prize.
5. If for any reason a winner does not take the Cruise Prize (or an element of the Cruise Prize) at the time stipulated, then the Cruise Prize (or that element of the Cruise Prize) will be forfeited and will not be redeemable for cash
6. The winner or their travelling companion/s must be over the age of 18. Alcohol consumption and gambling onboard are restricted to passengers aged 18 years of age or older.
7. Each winner and their travelling companion/s are responsible for ensuring that they have the necessary and valid travel documentation including, passports, any requisite visas and vaccinations. The winner and their travel companion/s will be responsible for any expenses incurred in obtaining necessary travel documentation, including any fines, or penalties incurred as a result of not having the requisite travel documentation. Itinerary to be determined by P&O Cruises Australia in its absolute discretion. A credit card imprint or cash deposit will be required from the winner at check-in in order to board the cruise ship, for all incidental charges.
8. The Cruise Prize must be taken on the departure date of the cruise selected by the winner. The Cruise Prize is only available on this date and cannot be changed once the booking has been made. If the winner and their travelling companion/s are, for whatever reason, unable to travel on the nominated date, or do not take an element of the Cruise Prize within the time stipulated by the Promoter then that element of the Cruise Prize will be forfeited by the winner.
9. Standard terms and conditions of travelling with P&O Cruises Australia will apply, including any applicable age restrictions. See Booking and Travel Conditions at https://www.pocruises.co.nz/plan/how-to-book/book-travel-conditions which passengers will be bound by.
10. Vaccination requirements may apply. Government guidelines may result in a requirement to quarantine during or after your cruise
and may restrict your ability to participate in shore tours or disembark the ship at ports we visit during your cruise. See https://www.pocruises.co.nz/plan/know-before-you-go/healthy-cruising for more information. Guidelines are subject to change without notice and as such, the Prize may vary from the descriptions provided.
11. If any Cruise Prize (or part of any Cruise Prize) is unavailable, P&O Cruises Australia, in its discretion, reserves the right to substitute the Cruise Prize (or that part of the Cruise Prize) with a prize to the equal value and/or specification, subject to any written directions from a regulatory authority.
12. Total Prize pool value is up to NZ$8,000.
13. Prizes, or any unused portion of a prize, are not transferable or exchangeable and cannot be taken as cash, unless specified otherwise.