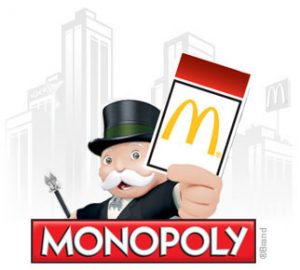 This page contains info on the World of Warcraft PC Gaming Pack prize for Macca's Monopoly New Zealand 2021! Or click here for our feature post with the latest game info, rare pieces and prize information!
Terms and Conditions
All ancillary costs or accessories not expressly included with the PC Gaming pack are the responsibility of the winners. No substitutions or exchanges (including for cash) of any prizes will be permitted, except as provided for in the Official Rules and Conditions of Entry. PC included will be built in a WoW Alliance OR Horde case, chosen by Blizzard in its sole discretion. Except as covered by manufacturer's product warranty, prizes are awarded "AS IS" and WITHOUT WARRANTY OF ANY KIND, express or implied, (including, without limitation, any implied warranty of merchantability or fitness for a particular purpose).
WORLD OF WARCRAFT® GAME TIME
– One (1) key code redeemable for a combined 1 year of game time access to both World of Warcraft and WoW Classic; see Official Rules for redemption instructions.
– Your 1 year of game time includes access to World of Warcraft and WoW Classic and can be applied to any new or existing account. Use of the 1 year of game time to World of Warcraft and/or WoW Classic Requires a Blizzard Account, which is available at no cost to you at www.battle.net.
Approximate Retail Value of this prize is NZD $6,100 each.