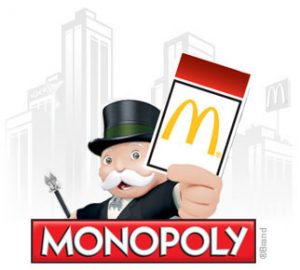 This page contains info on the Uber Eats $250 Credit prize for Macca's Monopoly New Zealand 2021! Or click here for our feature post with the latest game info, rare pieces and prize information!
Terms and Conditions
1. This prize comprises of Uber Eats credit valued at $250 (Prize).
2. The Promotional Partner for this Prize is Uber New Zealand Technologies Limited (NZBN 9429030215177).
3. In order to redeem the Prize, each winner must have an Uber Eats account and comply with any terms and conditions of use of the Uber Eats app.
4. Each winner of this Prize will receive $250 credit for use in New Zealand where Uber Eats is available.
5. Once credited, the Prize will be automatically redeemed on each order the winner places via the Uber Eats app until the Prize expires or is exhausted, whichever is earlier.
6. The Prize is exhausted when the $250 value is used up (including any delivery or other fees).
7. The Prize will expire 12 months after the winner's account is credited. Any unused portion of the
Prize will be forfeited on expiry.