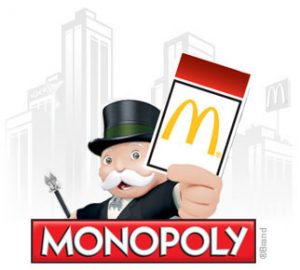 This page contains info on the Set of 4 Tyres prize for Macca's Monopoly New Zealand 2021! Or click here for our feature post with the latest game info, rare pieces and prize information!
Terms and Conditions
1. Each Set of 4 Tyres prize comprises of one (1) x set of four (4) Continental tyres to the total maximum value of $1,500.00.
2. The Promotional Partner for the Set of 4 Tyres prize is Continental Tyres (ABN: 50 136 883 148).
3. The Set of 4 Tyres prize includes the cost of four (4) tyres, plus fitment, balancing & alignment. Any costs above this allocation are the responsibility of the winner.
4. Any unused amount of the $1500 prize will be forefitted.
5. Eligible tyres are any 4 x Continental branded passenger, SUV or 4×4 tyres. No other brand within the Continental family of brands will be offered.
6. Winners will be directed to the closest participating retailer who will manage the tyre fitment.
7. Participating retailers will be displayed on the Continental Tyres website – www.continental- tyres.com.au/car/promotions.
8. Terms and conditions can are located at www.continental-tyres.com.au/car/promotions
9. The Set of 4 Tyre prize must be claimed by 31 December 2022. If unclaimed by this date the prize will be forfeited.