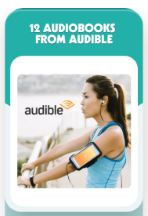 This page contains info on the A Year of Audiobooks (12 Audiobooks from Audible) prize for Macca's Monopoly New Zealand 2020! Or click here for our feature post with the latest game info, rare pieces and prize information!
Terms and Conditions
1. Each Year of Audiobooks prize comprises of one (1) x voucher code providing the winner with 12 credits to claim 12 audiobooks over the 12 months. Prize valued in Australian dollars at AUD $197.40.
2. The Promotional Partner for the Year of Audiobooks prize is Audible Australia Pty Ltd (ABN 89 624 383 811).
3. This prize is valid for recipients of a unique voucher code who have been selected as a winner in the
McDonald's Monopoly promotion 2020.
4. A winner must redeem their unique voucher code on the Audible redemption page at www.audible.com.au/monopoly. Voucher codes must be redeemed by 31 March 2021 11.59pm AEDT.
5. Upon redemption of the unique voucher code, the applicable credit(s) will be applied to the winner's
account. Credits expire 12 months from the date they are applied to the account.
6. The credits apply only to items sold by audible.com.au. The same items sold by other sellers (e.g. audible.co.uk, audible.com, etc.) do not qualify.
7. Voucher codes cannot be resold, transferred for value, redeemed for cash or applied to any other Audible account, except where required by law.
8. This prize may not be combined with other offers.
9. Limit of one voucher code redemption per Audible account.
10. This prize is subject to availability and may be withdrawn or amended without notice.
11. This prize is only valid for customers in New Zealand.
12. Audible account required. Other terms and conditions apply, including Audible's Conditions of Use at https://www.audible.com.au/legal/conditions-of-use?moduleId=201654400&ie=UTF8 and gift terms and conditions at https://www.audible.com.au/legal/gift-terms/ref=pc_pag_terms.
13. If you violate any of the terms or conditions, the prize will be invalid and will not apply. Audible reserves the right to modify or cancel at any time. Any terms prohibited by law shall be void without prejudice to the remaining terms.