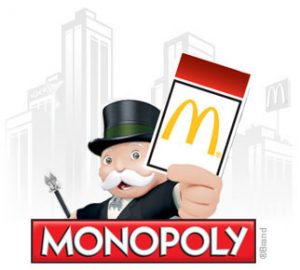 This page contains info on the York Fitness T900 Plus Treadmill prize for Macca's Monopoly New Zealand 2021! Or click here for our feature post with the latest game info, rare pieces and prize information!
Terms and Conditions
1. Each $30 Off Budget Car Weekend Rental prize comprises of one (1) x Coupon Code valued at NZD
$30.00 ("Coupon Code").
2. The Promotional Partner for the NZ $30 Off Budget Car Rental prize is Budget Rent a Car Limited (NZBN 9429039997920)
3. Vehicles subject to availability. A reservation restriction of at least twenty-four (24) hours prior to vehicle pick up applies.
4. Valid at all participating Budget locations across New Zealand.
5. A strict limit of one (1) Coupon Code redemption per rental applies.
6. Coupon Codes are subject to their prevailing terms and conditions of use, including expiry dates and are not replaceable if lost, stolen or damaged.
7. Valid for bookings between 1st September 2021 – 31st May 2022 and rental pick-ups between 1st September 2021 – 31st August 2022.
8. Budget standard age, credit card and driver requirements apply and can be found at https://www.budget.co.nz/en/terms-and-conditions
9. If the prize winner is under 18 years of age, the prize may only be transferred to their legal guardian or if they are 18 years of age or older, the prize may be transferred to a member of their immediate family (mother, father, sister, brother, spouse, or domestic partner) who is aged 21 years or more and who agrees to these terms.
10. Rental must include a Saturday overnight stay and the promotional Coupon Code provided must be used to redeem a the $30 Off Budget Car Rental Prize.
11. Minimum rental period of 2 days applies.
12. Extra charges may apply to options selected, if a vehicle is not returned to the same pick-up location, or if the vehicle is returned late, the vehicle is not returned full of fuel (unless the prepaid fuel option is purchased), infringements are incurred or toll roads used, or if the allowed kilometre limit is exceeded.
13. Prize is available on all vehicle groups (with the exception of commercial fleet vehicles), subject to availability.
14. If there is damage, theft of the vehicle or third-party loss, the winner must also pay up to the standard excess. Optional Coverage Protection may be purchased to reduce liability, but there may be no cover under some circumstances. For further information, see https://www.budget.co.nz/en/products-services/protections
15. Prize not valid during blackout periods from 23rd Dec 21– 3rd Jan22 and 15th Apr – 26th Apr 22.
16. May not be used in conjunction with any other promotional, coupon or discounted offer.
17. Offer is non-transferable unless otherwise stated and non-refundable.
18. Budget standard age, credit and driver requirements apply.
19. The Car Rental prize winner is not eligible to earn points through any loyalty program(s).
20. Car Rental is subject to the Budget's standard rental Terms and Conditions available at
https://www.budget.co.nz/en/terms-and-conditions
21. The NZD $30 off is applicable to the base rate (time and kilometre charges) only.
22. Offer not available on corporate, travel industry, net and non-discountable rates.