NEWS: Burger King – Spicy Chicken Tenders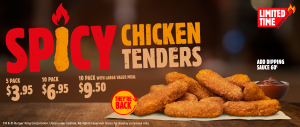 For a limited time only, Burger King have brought back Spicy Chicken Tenders!
They'll set you back:
$3.95 for a pack of 5
$6.95 for a pack of 10
$9.50 for a pack of 10 Large Value Meal
You can also add a dipping sauce for 60c.
To try out the range and to locate your closest Burger King store, click here.
For more Burger King vouchers, offers and deals, click on one of these links:
Let us know in the comments if you've tried out this deal!
Visit Frugal Feeds to like us on Facebook for more of the latest fast food news, deals, vouchers and coupons!