DEAL: KFC $12.99 Super Hot Deal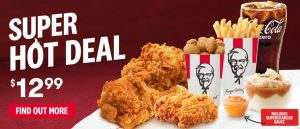 KFC have introduced $12.99 Super Hot Deal!
You'll get all this for just $12.99:
2 Pieces Hot & Spicy Chicken
Wicked Wing
Hot & Spicy Mini Popcorn Chicken
Regular Chips
Regular Potato & Gravy
Regular Drink
Supercharged Sauce
It's not available at Auckland International Terminal.
To try it out and to locate your closest KFC store, click here.
For more KFC vouchers, offers and deals, click on one of these links:
Let us know in the comments if you've tried out this deal!
Visit Frugal Feeds to like us on Facebook for more of the latest fast food news, deals, vouchers and coupons!