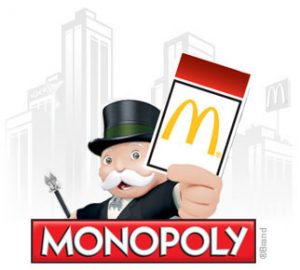 This page contains info on the $100 Cash from Macca's prize for Macca's Monopoly New Zealand 2021! Or click here for our feature post with the latest game info, rare pieces and prize information!
Terms and Conditions
1. Each $100 Gift Card prize comprises of one (1) x Prezzy® card valued at $100.
2. The Promotional Partner for the $100 Gift Card prize is Prezzy card, issued by Oxygen Global New Zealand Limited.
3. The Prezzy card is subject to its prevailing terms and conditions of use (available at https://www.prezzycard.co.nz/terms-conditions/).
4. Prezzy card can be used at selected merchants for in-store purchases, online, over the phone and via mail order, at nearly anywhere that accepts Visa electronically. Prezzy card works overseas as well as all around New Zealand.
5. Prezzy card is not exchangeable for cash.
6. Prezzy card is issued by Oxygen Global New Zealand Limited
7. Distribution to New Zealand addresses only.